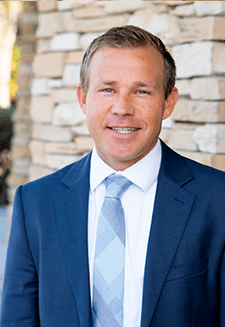 Dr. Curtis Andrus was born and raised in Idaho Falls, Idaho. After graduating from BYU­ Idaho in 2005, he moved to Portland, Oregon, where he attended Oregon Health and Science University (OHSU) School of Dentistry. He received his Doctor of Dental Medicine (DMD) from OHSU in 2009.
After dental school, Dr. Andrus completed one year of internship training in oral surgery at Allegheny General Hospital in Pittsburgh, Pennsylvania. Following his internship, he attended Drexel University College of Medicine in Philadelphia, Pennsylvania where he earned his medical degree (MD) in 2012. He then completed two years of residency training in general surgery at Allegheny Health Network in Pittsburgh. Dr. Andrus completed his postdoctoral training in oral and maxillofacial surgery at Allegheny Health Network in 2015, where he received comprehensive training in all aspects of the specialty.
As a dual-degreed oral and maxillofacial surgeon, Dr. Andrus is trained in full-scope oral and maxillofacial surgery procedures. His clinical interest and expertise include dental implantology, removal of wisdom teeth, anesthesia, virtual surgical planning, orthognathic (corrective jaw) surgery and facial trauma repair. Dr. Andrus is a member of the American Association of Oral & Maxillofacial Surgeons.
Dr. Andrus enjoys being around people and is actively involved in the local community and in his church. In his spare time Dr. Andrus spends time with his wife, Nichole, and their six children. His hobbies are playing basketball, golfing, flag football, boating and camping.
"Caring for people brings me satisfaction. Every day I am involved in the well-being of those around me and enjoy helping them with their oral health needs. Focusing on others needs makes oral surgery exceedingly rewarding. In order to provide the highest level of care to the patient, I emphasize clear communication with the patient and the referring doctors.
"Before college I lived in Mexico for two years completing a mission for my church. While I was there, I learned to love the Latin people and their culture, and I learned to speak Spanish fluently. Having this experience allows me to serve the people who live in the north county area more effectively.
"Taking pride in my work comes with my competitive nature and I strive for excellent outcomes with all of my patients. I am meticulous with the surgery that I perform, with an emphasis on a comfortable patient experience. I take pride in being a dentist and a physician and I believe having this background provides the patient with the safest option for oral surgery."