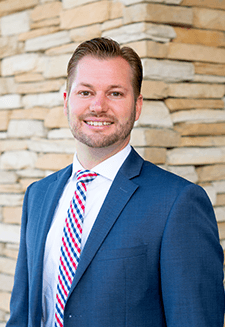 Dr. Jason Thompson was born and raised in Southern California, where he graduated from Valley Center High School. He received his undergraduate degree from Brigham Young University, where he graduated magna cum laude. He then received his dental degree from the University of California Los Angeles School of Dentistry, where he also graduated magna cum laude.
After dental school, Dr. Thompson completed his oral and maxillofacial surgery residency at the University of Iowa Hospitals and Clinics. Throughout his many years of education, he received numerous academic, athletic and research awards. After having practiced oral and maxillofacial surgery in Iowa for multiple years, he is excited to return home to San Diego County to join North County Oral and Facial Surgery Center.
During his residency, he was trained in the full scope of oral and maxillofacial surgery, which includes dentoalveolar surgery, wisdom teeth removal, implant placement, orthognathic surgery, facial trauma reconstruction, temporomandibular joint disorders, treatment of pathology of the jaws and facial cosmetic surgery. He loves to perform surgery and strives to make each of his patients as comfortable as possible during their surgical procedures.
When not involved in his profession, Dr. Thompson enjoys camping, hiking, sports, board games and most importantly, spending time with his wife, three daughters and son. His experience in all phases of oral and maxillofacial surgery will afford him the opportunity to provide you with optimal consultation and treatment services.