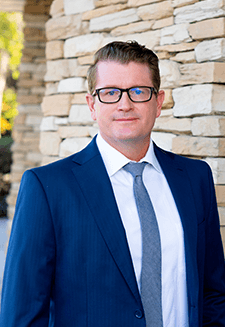 "I feel incredibly fortunate to love what I do! As an oral and facial surgeon, I have the opportunity to perform life-changing procedures that help people enjoy a higher quality of life. With my dual medical and dental degrees, I can draw from a diverse educational background to offer a number of surgical solutions to my patients. I was drawn to this specialty because of its diversity of surgical procedures. I am especially interested in bone grafting, corrective jaw or Orthognathic Surgery, dental implants, and facial cosmetic procedures. While training and experience is essential, I'm especially proud of the time I can spend with each patient, teaching them about their treatment options and working to accomplish the goals we set together."
While in dental and medical school, Dr. Madsen received numerous scholarships. He also graduated first in his dental school class.
"I personally hold myself to the highest standards in the pursuit of education and doing everything that I can to stay current in the technology and procedures in my specialty. This is evidenced by my research and publications in the prestigious journals of our specialty. I have been fortunate to be an invited author in textbooks as well. I am passionate about being a surgeon and taking care of patients, but I also consider myself an educator and enjoy teaching other doctors about the most effective new surgical techniques for patients."
Dr. Madsen has been a principle investigator in multiple research projects. He continues to be a frequent contributor of scholarly articles to peer-reviewed publications. He has been a presenter at many dental and medical symposiums and meetings and is the author of numerous abstracts on oral surgery topics.
Dental Degree: University of Kentucky College of Dentistry
Medical Degree: University of Louisville School of Medicine
Residency: Oral and Maxillofacial Surgery, University of Louisville, Division of Hospital and Surgical Dentistry
Internship: General Surgery, University of Louisville School of Medicine
Memberships: American Association of Oral & Maxillofacial Surgeons, American Dental Association®, American Medical Association, American Academy of Cosmetic Surgery, American College of Surgeons.
"I lived in Peru for two years and speak fluent Spanish. I've also been involved with a surgical mission team that goes to Guatemala every year to treat cleft lip and palate patients. By living abroad and speaking Spanish, I have a more diverse background that helps me relate to all of my patients. Being able to communicate with patients in their language allows me to develop a special relationship of trust with them, which, as a surgeon, is invaluable. I look forward to offering services to our Hispanic population."
Dr. Madsen, who grew up in Salt Lake City, has recently moved with his wife and three daughters to Southern California. He likes playing golf, going to the gym, skiing and any watersport. He also loves daydreaming about cars.